Laura Kaeppeler Shares Update On Carthage College's 'Kenosha' Scholarships On WGTD-FM Morning Show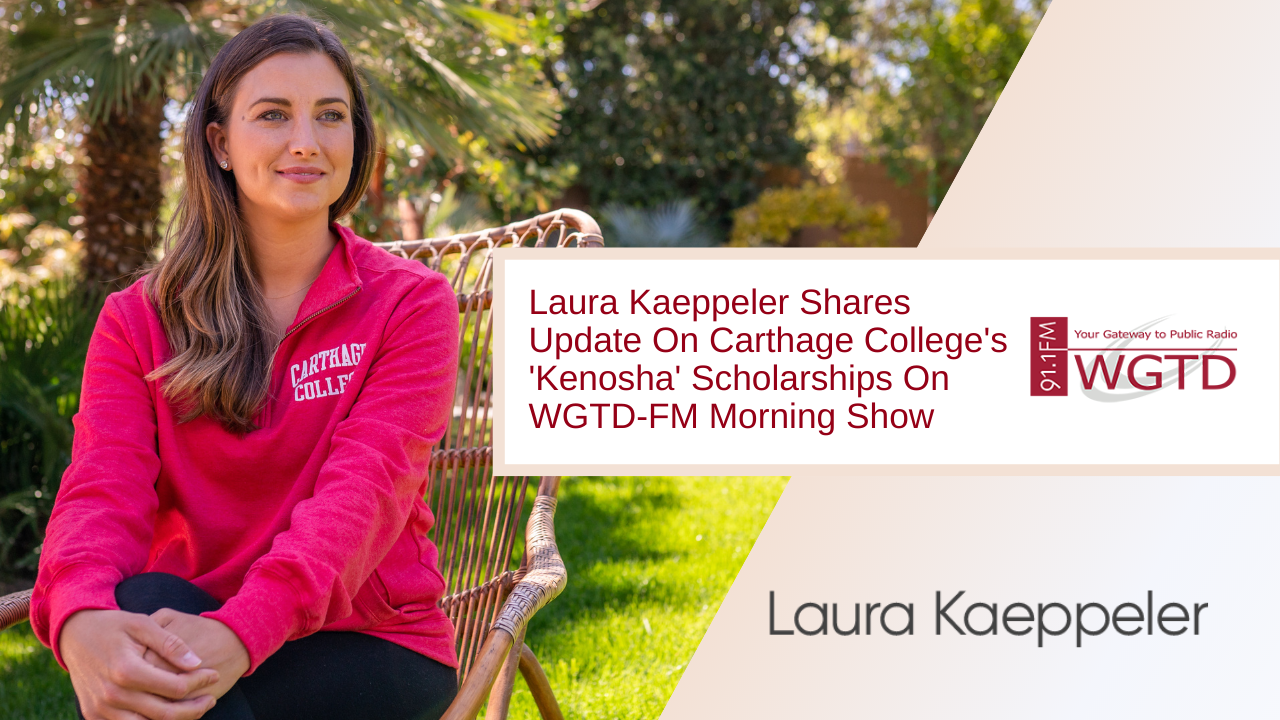 Gregory Berg:
You're listening to The Morning Show on WGTD-HD, Your Gateway to Public Radio. I'm Gregory Berg.
And what a happy day it is for me to be reconnecting with Laura Kaeppeler. And of course, many of you know that name very, very well as Laura Kaeppeler, originally from Kenosha, proud Carthage graduate, and Miss America 2012. And Laura has extended a very generous hand to the city of Kenosha and to her alma mater, with the Laura M. Kaeppeler Scholarship Fund. And we're going to be talking with her about what prompted her to do this, we'll look back at her time at Carthage College, and why she felt like she wanted to do this for future Carthage students. Laura Kaeppeler, we welcome you back to The Morning Show!
Laura Kaeppeler:
Thank you, Greg, thanks so much for having me.
Gregory Berg:
I'm just so happy to be hearing your voice again. And also to have such a happy topic to be talking about. So before we talk about the scholarship fund, let's kind of turn the clock back to when you were looking at colleges. And what prompted you ultimately to select Carthage? You are from the class of 2010. So I assume we're talking about the years of 2005 or 2006, that you're first looking at colleges. What were you looking for? And what did you think Carthage would have to offer you?
Laura Kaeppeler:
Well, I was looking for a great music program, first and foremost. I had grown up with music and was a vocalist and knew that I wanted to pursue my higher education in music. So a stellar Music Department was what I was looking for number one.
Number two, I went to a really small high school. I went to St. Joe's. Well, now St. Joe's the Catholic Academy, when I went there with called St. Joe's, in Kenosha, so I really enjoyed a small community where everyone knew one another, you know your teachers pretty well. And the school community, everyone knew each other's names. And so I was looking for that environment in a college as well.
I'm also from Kenosha, so I enjoyed the idea of being home and being able to be close to my family, who I'm very close to. And so, for me, Carthage was checked all of those boxes, and ultimately became such a great decision because I look back at my time there and have such wonderful memories of meeting my college dorm roommates who are still my best friends to this day. We've been in each other's weddings and through the good and the bad of life.
And then I think about my music education and how that has helped me to go on in professional settings to really be able to hold my own, among other very impressive musicians. So I look back at my time at Carthage with nothing but fond memories, and am so grateful for the experience.
Gregory Berg:
I'm just curious, you came from Kenosha, and you could have made the decision as some Kenoshans or Racinians do to live at home. But you chose to go to, sort of dive pell-mell into a full collegiate experience living on campus. Can you take us back to making that particular choice? And what was behind that choice?
Laura Kaeppeler:
Well, I love my family, but I didn't know that I wanted to stay with them for four years. While I was in college, I think I just wanted a normal college experience living on-campus, living in the dorms, and I think quite a few people do that. A lot of people who go to Carthage who are from the area still live in the dorms, and that experience is really valuable. I don't know that I would be able to look back at my college experience and feel like it was the same had I not had the on-campus experience.
Gregory Berg:
You were a music major at Carthage. But of course, Carthage is a liberal arts school and so you end up studying a number of other things outside of the major. I mean, that is what a liberal arts education is all about. Do you have one or two high points that you look back on in terms of what you studied at Carthage outside of the specific music major that you were pursuing?
Laura Kaeppeler: 
Actually, I do remember a lot of courses that I enjoyed outside of music. And you know, Greg, that music is so all-encompassing that it's sporadic how you have your general education courses mixed in with all of your music courses. But I do remember my sociology course, Sociology 101 with Ellen Hauser. And I loved that class. I loved it so much that I even thought about possibly minoring in sociology. I loved my professor, and that's part of the Carthage experience as well. Even though you're in a certain department, you have interactions that are meaningful outside of that department. Even though music was my focus, you have those other strong interactions that I don't know if you find in other campus settings.
Gregory Berg:
There are certainly places you can go and major in something, but that becomes really your sole focus. And, and a place like Carthage is, is a place where you will experience a lot of other things. But I certainly want you to say a word about some of the most powerful experiences you had within your music major. And you don't have to go on and on about singing Pamina in "The Magic Flute" and Opera workshop, although that's, of course, a very pleasant memory for me and for everybody who was part of that. But aside from that, what would be some of the high points in terms of experiences you had as a music major at Carthage and, and maybe people who paid played an important role in some of those experiences for you?
Laura Kaeppeler:
Well, first and foremost, the music department faculty played the biggest role. And I speak for many of my friends who I'm still in close communication with that we all look back at our time in the music department so fondly, because of our professors. Because that is really where the heart and soul of the music department is starting there. And so I look back at all of our time with you in rehearsals and choir rehearsals just so fondly and had and we had so much fun.
But next to that, I would definitely say the Christmas festivals are another experience in the music department that I look back at so fondly. They are so professionally done, and so beautifully orchestrated and put together. That was always a high point as a music student myself.
But beyond that, our recitals and to have all of the different travel experiences abroad that the music department has offered, really helped shape all of us, my friends that I'm still close to, into really great overall musicians.
And I don't know that I really understood that until I moved out, until after I graduated and was in the real world, how the Carthage music education really creates a strong overall musician with great musicianship skills. And working with other musicians in Los Angeles and in other parts of the country that maybe didn't have a music education background, don't always have that same understanding of musicianship skills. I think that's a really impressive component of the music department.
Gregory Berg:
Nicely said, for those of you just joining us, I'm speaking with Laura Kaeppeler, who is a 2010 graduate of Carthage College and of course, 2012 was crowned Miss America.
We need to talk about the scholarship that is in your name. But first, I would certainly be remiss if I didn't take a moment here to just have you reflect on that extraordinary adventure you had being Miss America. And when you look back at it now, it's not quite 10 years ago, but nearly 10 years ago. I wonder how you view that whole adventure and experience now, with 2020 hindsight, what did that mean to you? What did that experience mean to you?
Laura Kaeppeler:
I do look back at it through a different lens now that I'm approaching 10 years, which I hadn't really thought of until you said that. Time has flown by! But it was an amazing experience. And I was able to travel and meet so many different people that were doing incredible things. I really look back and feel proud of the work that I was able to do with my platform, to advocate for at-risk youth, and all of the nonprofits that I was able to work with through my platform.
And then I look back at all the other experiences that I would have never had in life. All of the public speakings, meeting and greeting people and composing yourself to be in front of a crowd, which also stems back to my Carthage music experience, performing and being on stage really lends itself well to the Miss America experience.
Miss America is approaching its 100th anniversary this year. And so I hope that the tradition continues, as an older woman now I look back at it through a different lens. Sometimes I wonder if the woman I am today would be brave enough to do some of the things that I did back then! I was very young and maybe a little naive, but it worked out. And it was a great experience. I wouldn't trade it for the world, and I certainly wouldn't be who I am today had I not experienced it.
I really hope that the program is able to continue and carry on the amazing tradition that it's been able to sustain for almost 100 years now.
Gregory Berg:
And it's wonderful to have you be part of that great story. So let's talk about these scholarships, eight of which will be available to freshmen entering Carthage College.
Laura Kaeppeler:
The eight scholarships are the Carthage Kenosha scholarships. And Carthage created a scholarship in my name after I became Miss America, which is the Laura Kaeppeler Kenosha scholarship, and that's one of the eight full-tuition scholarships under the Kenosha scholarships umbrella.
And so what I wanted to do after Kenosha had such a difficult year, not only with the pandemic but also with all of the social unrest and rioting, I really felt compelled to give back to a community that has given so much to me, and has supported me for so long.
And one of the ways I could give back was to create an additional scholarship at Carthage called the Laura M. Kaeppeler scholarship fund, which is an endowment that will help the Laura Kaeppeler Kenosha scholarship live on in perpetuity.
Gregory Berg:
Fantastic. And I thank you for clarifying that. So let me ask again, did anything, in particular, serve as a catalyst for you to want to extend your generosity in this way?
Laura Kaeppeler:
I have been thinking about it for quite some time. And I think this last year, we've all just been trying to get through the pandemic, and we've all been holding on for dear life to just try and get through.
I have two little kids, and so I was just really focused on my family for this last year. But now as the dust is settling and we're seeing normal life carry on a little bit, and things go back to normal, there was the notion of wanting to give back for quite some time. I was feeling like this was the time to do it, now that the dust has settled. It's just felt like a nice time, and something that I've wanted to do for quite some time.
Gregory Berg:
And I know that at carthage.edu there is all kinds of information available on what is involved in applying for any of these scholarships. And this is a scholarship that we're talking about for the following school year. And we hope that people will seek out information and, and investigate this really exciting possibility. I should think that when it comes to something like legacy and leaving something behind, you feel really good that your legacy can include this.
Laura Kaeppeler:
It does, and that's a funny notion– your legacy, and what you want to leave behind. It feels it feels really nice to give back and especially to a place like I said, that has been so supportive and encouraging of me. And it's so nice to talk to you Greg because I think back of my time at Carthage, and you pop into my mind right away, and so many other professors that I still talk to pretty frequently. So thank you for talking with me about it.
Gregory Berg:
Laura Kaeppeler, 2010 graduate of Carthage College, and of course, Miss America for 2012. Laura, great to hear your voice again! Very best wishes to you and yours, and thanks for being part of The Morning Show today.
Laura Kaeppeler:
Thanks so much for having me, Greg!
About Laura Kaeppeler
Laura Marie Kaeppeler is a nationally recognized performer, advocate for at-risk youth, and inspirational speaker, originally hailing from Kenosha, Wisconsin. In 2012, Laura Kaeppeler became the 86th woman to be crowned Miss America and the second Miss America from Wisconsin. As Miss America, Laura became the Goodwill Ambassador for the Children's Miracle Network Hospitals and her personal platform, Advocating for Children of Incarcerated Parents.
An acclaimed classical vocalist, Laura has been a featured soloist with orchestras across the country and has performed the national anthem at numerous sold-out venues, including Angel Stadium, Lambeau Field, Miller Park, Wrigley Field, and Yankee Stadium. Laura has also performed for members of the United States Armed Forces and their families with the USO. Laura is passionate about advocating for children of incarcerated parents and has been invited to speak at The White House and partner with organizations including the U.S. Dream Academy, Big Brothers & Big Sisters of America, Operation Open Arms, and others.
Laura Kaeppeler is a 2010 graduate of Carthage College in Kenosha, WI, and holds a bachelor's degree in Music and Vocal Performance. For more information, visit https://laurakaeppeler.com/about
About Gregory Berg
Gregory is the host of The Morning Show on WGTD 91.1 FM Kenosha, and is also a member of the Carthage College music faculty. Listen to interviews with local and national authors, newsmakers, and intriguing members of the community. Learn more at https://www.wgtd.org/program/talk/morning-show.