Laura Kaeppeler Presents "Celebrate Kenosha": A Recap Of The Free Summer Concert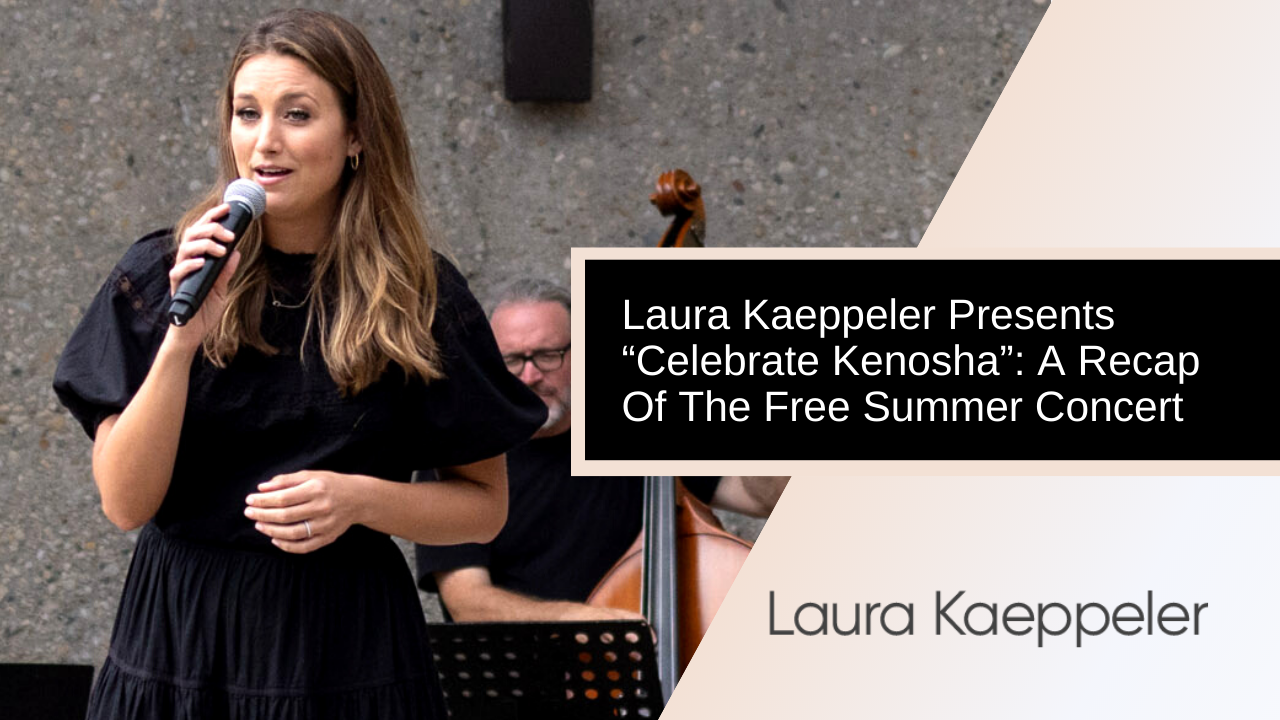 The first ever Celebrate Kenosha concert Sunday August 29 at Pennoyer Park was a smashing success; the kind of feel-good, keeps-you-smiling mix of music, stories and memories that is tailor-made for a Sunday afternoon in the park.
I was happy to organize this free summer concert, together with generous sponsorships by ULINE and Carthage College.
The event featured classics from the "All American Songbook", performed by an all-star cast backed by Wisconsin's Water City Jazz Orchestra at the park's bandshell.
Here's my recap!
Dark clouds rolled in along the Lake Michigan coast and threatened the show's 1 p.m. Sunday start time. After huddling backstage with the show's production team, organizers made the decision to have show opener Joe Piscopo kick off on time to reward the waiting crowd rather than postpone for the rain that was quickly approaching.
Piscopo, the "Saturday Night Live" legend best known for starring alongside friend and castmate Eddie Murphy, started his set with a heartfelt salute to our active duty and military veterans, police, fire, and first responders in attendance. Piscopo performed a swinging rendition of the National Anthem before the show was put on a temporary weather hold.
Attendees were given just enough time to make it to their cars for shelter before the rain started, with a promise that the show would resume just as soon as the fast-moving storm passed.
About 45 minutes later, the rain was gone, the sun was shining, the stage was dry and "Jersey Joe" Piscopo resumed his set with his tribute to Frank Sinatra, who he had lovingly impersonated with Sinatra's approval on Saturday Night Live (Sinatra once called Piscopo the "The Vice-Chairman of the Board").
The TV, movie and radio star wrapped up his set behind the drum kit, pounding out the Buddy Rich classic "Sing, Sing, Sing".
American Idol alum Haley Reinhart took the stage next, wowing the crowd with her powerful vocals and stunning stage presence on her million-selling version of Elvis' "Can't Help Falling in Love", Nancy Sinatra's "These Boots Are Made for Walkin'" and Peggy Lee's sultry "Fever".
Next, attendees took a trip back to the 1950s with the longtime former lead vocalist of the legendary Platters Joe Coleman. The dapper showman took the audience on a trip down memory lane with a powerhouse take on "Smoke Gets In Your Eyes" and the Platters very first number one hit record, "Only You".
Coleman then introduced me, and by the way we recently recorded a new duet together in LA (more on that song to come!) I performed a rendition of the George Gershwin classic "Embraceable You", which
Hollywood-based jazz singer Dave Damiani hit the stage next, and took the audience on a musical trip to his frequent stops of Las Vegas and Atlantic City with the Four Seasons classic "Can't Take My Eyes Off Of You". The old school vocalist was joined for a duet with Oshkosh jazz vocalist and Michael Bublé protege Erin Boheme on a smoky "Nice 'n' Easy".
Donny Most was up next, and he received an especially warm Wisconsin welcome. Most will forever be known for his iconic role as jokester Ralph Malph on the TV classic "Happy Days" which was set in nearby Milwaukee. Most surprised attendees with his powerhouse vocals on Great American Songbook classics, and with his touching tribute to his friend and late Happy Days co-star Al Malinaro. The Kenosha native played the owner of Arnold's Diner, "Big Al" Delvecchio.
Most welcomed "America's Got Talent" season six winner Landau Eugene Murphy Jr. for a duet on the Sinatra classic "That's Life". The singer of Sinatra and Soul classics tore through a set of songs and stories of his rags to riches story (Murphy was once homeless, and was working as a car washer when he auditioned for AGT) before wrapping up his set with the crowd favorite "My Way".
The entire Celebrate Kenosha cast then took to the stage for a rousing rendition of "New York, New York" and was rewarded with an extended standing ovation from the enthusiastic audience. One smiling event attendee remarked as they were leaving the park that they couldn't believe that much talent was on one stage, for a free show, "in Kenosha of all places!"
I hope to make "Celebrate Kenosha" an annual event! Hopefully you feel this way too.
Click here to view the photos on Facebook.
Brought to you by: